-- David "Skinny Devil" McLean
originally published at Tinfoil Music
Date:
Tuesday, March 15 2005 @ 14:59:10 GMT
If you are a fan of Megadeth, you need no introduction to Chris Poland - the man who ripped out half the guitar work for the band along with founder Dave Mustaine. You've heard his playing on the classics "Peace Sells...but Who's Buying?", "Devil's Island", and more, and know all about his flowing, legato style. Then again, you might know Chris as the west coast fusion player instead, who tore through the clubs 20 years ago with his band The New Yorkers.
If you're new to Chris Poland, you might only have heard his amazing work with Damn the Machine or his solo project or maybe his main gig, OHM:. Even many a Poland fan don't know about the wide scope of his career, but Chris Poland is pouring out fresh ideas faster than they can be recorded.
Learn all about Chris at his
web-site
! I had the chance to speak with Chris recently - check it out!
==========
1) What are your current projects?
My main focus on my new project, OHM:. We just competed a US tour with Frank Gambale's Trio and a performance at the Eric Clapton Crossroads Guitar Festival in June. We are going to get into my recording studio this summer to do the new OHM: record. In January I completed solos for the upcoming Megadeth record and just did a solo on the upcoming Lamb Of God release, Ashes Of The Wake.
2) How does this (do these) differ from your past work?
OHM: is definitely where my head is at musically. I love the jazz fusion stuff. However, it was fun to work with Dave Mustaine again on this new Megadeth record and do another session with the Lamb Of God guys. It is fun to do the metal-thing again every once in awhile via a guest appearance.
3) Do you have one project that you are most proud of as a guitarist?
I would definitely say OHM: is my proudest moment. I am making the music I have always wanted to make right now with this band. It may be fusion, not metal, but the live energy of OHM: is at least that intense of what Megadeth was.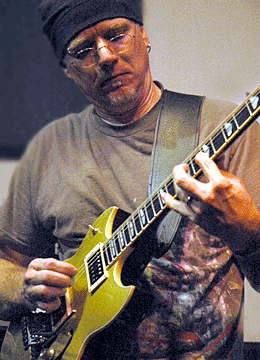 4) Can you give our readers a run-down of your basic gear (live and/or studio)?
I use Yamaha Guitars exclusively. They just built me this awesome Les Paul Gold-top style guitar. I still use my Yamaha Image custom and my 2 Yamaha SBG1500's as well. My current rack includes a Bogner FISH, Mesa Boogie 395 Simul power amp, and Carvin 212 Legacy Cabinets. For the recent tour with Frank Gambale I was using 2 Yamaha DG100's, but that amp line is being discontinued, so I want back to a power amp/ cab set-up. I absolutely love the Mesa Boogie 395 power amp I recently got. The tone I get in combination with the FISH is incredible!
5) Who would you cite as early influences, and who are you favorite new players?
I grew up listening to Hendrix, Beck, Page, and Clapton. However, when I heard Mahavishnu Orchestra and McLaughlin, that's when it all changed for me. I was totally hooked on that style of fusion. As for new players, I recently discovered and enjoy listening to guys like Guthrie Govan, Oz Noy, and an up-and-coming player named Jason "JMR" Richardson. I listen to a little bit of everything though, not just instrumental guitar-stuff.
6) Can you give a few tips to aspiring players?
Turn your volume pedals up to 10 and play as loud as you can!!! Also, stick with it. If you work hard and keep doing what you are doing eventually something is going to happen with it.
7) What are your future plans?
Right now I am getting my studio set-up to record the new OHM: record. After that we have plans to do some shows in Europe in 2005, followed by another possible run of the Guitarevoltuion tour with Alex Skolnick's Trio, Marty Friedman's band, and OHM:. It definitely promises to be a busy time ahead.
8) Thanx for talking to us, Chris!
Thank you for taking the time to do this interview, David. Thanks also to all my fans for their support. Watch out for the new OHM: cd soon. See you on tour!