- David "Skinny Devil" McLean
originally published at Tinfoil Music
Date:
Thursday, February 19 2004 @ 18:15:03 GMT
Stevie Salas is among the most under-rated guitar gods in the history of rock-n-roll. But I doubt he will be for long, as Stevie - with his fresh mix of blistering funk, heavy rock grooves, wailing guitars, and classic rock-n-roll voice - is poised to be one of the first HUGE guitar stars of the 21st century.
...and remember you heard it here first!
Stevie came burning onto the music scene in the late 1980s and, though he was certainly no house-hold name to music fans, was immediately well-known among rock music's elite. It started when surf-dog Stevie got a job in a Los Angeles recording studio answering phones and sweeping floors. Stevie was sleeping on a couch on night when the God of Funk - George Clinton - woke him up to play a few power chords. George was immediately impressed and suddenly Stevie was playing guitar for George and hanging with Bootsy Collins, Bill Laswell, & Don Was, playing guitar in the "Fame" house band, and rubbing shoulders with rock's royalty.
By the end of 1990, Stevie had released his first solo album, "Colorcode" and had already toured with the likes of Andy Taylor (Duran Duran) and Rod Stewart. The album didn't do well in America, but in Europe and Japan it was a best-seller. Stevie spent a lot of time on the road and in the studio, but took a break to record his third album, 1995's "Back from the Living", which was hailed in Japan as "Album of the Year". He then set off recording and touring with top acts like Terence Trent D'Arby, Sass Jordan, Hardware (Bootsey Collins and Jimi Hendrix drummer Buddy Miles), and others.
Suffering a personal set-back in 2000 (Stevie was devastated by the death of his girlfriend), Stevie quickly rebounded, recording his ninth solo album, "Shape Shifter" (2001), and then playing with Mick Jagger.
2003 was a big year for Stevie, clinicing at NAMM shows, gigging with the likes of Sammy Hagar, Tommy Lee (Motley Crue), Jerry Cantrell, and Sass Jordan, doing opening dates for the Rolling Stones, and touring the UK with his friend and fellow guitar god Ritchie Kotzen.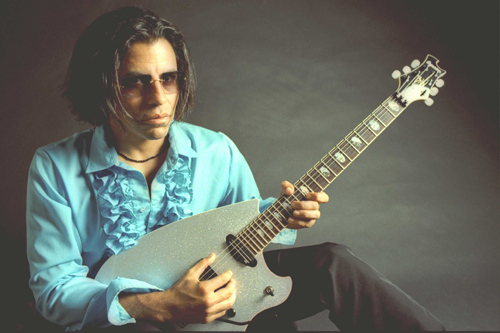 He also went into the studio and produced what will be his 10th album (which comes out TODAY - February 18, 2004) titled "Soulblasters of the Universe"! The CD features some awesome guest artists, Stevie's touring rhythm section (TM Stevens & Matt Sherrod), and Stevie's classic rock-n-roll voice and wicked guitar.
Keep an eye on Tinfoil Music for a review of the new CD, visit Stevie's
web-site
for more info and tour dates, and go grab a copy of "Soulblasters". In the meantime, check out my recent conversation with Stevie!
========
1) What are your current projects?
I have just finished a new CD called "The Soulblasters of the Universe". It's a mix of modern and retro funk - lots of big hip hop beats with fat riffs...a bit like my first CD "Stevie Salas Colorcode". Jerry Cantrell, Bootsy Collins, Brian Tichy, Jara Slapbak, Richie Kotzen, Bernard Fowler, TM Stevens, and Matt Sherrod are some of the people on it.
I am also producing acts now and looking for things to do that are worth doing, and am also developing a new signature guitar deal and sig amp deal.
2) How do these differ from your past work?
I am not sure how much my projects differ. I think my guitar playing is a bit more mature and I also think my singing has almost got to the point where I don't hate it (hahaha!!!).
3) Do you have one project that you are most proud of as a guitarist?
There are a couple that come to mind. I like the Nicklebag project a lot and I think the CD called "Rats" by Sass Jordan is a good one. There is a Terance Trent D'arby song called "Perfume Pavillion" that was cool, and I also like the Public Enemy re-mix of "Welcome to the Terrordome".
4) Can you give our readers a run-down of your basic gear (live and/or studio)?
My gear always changes! I have tons of gear and will use any combination of amps and pedals to get a sound. For instance, I am using Cornford Amps and prototype Ashdowns - both are British tube heads, but I still use my old Marshalls and Fenders. I also like my old KMD cabinets. For Mick Jagger I used a 65 Fender Deluxe and a '69 Marshall Super Lead and ran them both through Mesa Boogie cabs with EV speakers, but for Lamya (the lead singer of Soul to Soul) I used a Line-6 Vetta combo, so depending on project I will try anything...but I usually have my amps set to a sound that is clear if you hit the guitar soft and heavy when you dig in. As for guitars, I have around 60 to 100 depending on my mood.
Lately, I have been into a Richie Kotzen model Fender Tele, a James Trusart chrome Les Paul, some custom Caparisons, Musicman guitars, Godin, and some Italia guitars.
5) Who would you cite as early influences, and who are you favorite new players?
I am a mad fan of Gary Shider from P-funk, the late great Mick Ronson from the (David) Bowie stuff, of course Jimi and early Eddie van Halen. As for new guys, I have not heard a lot of players that are taking me into new places. I don't like guitar for the sake of guitar, but for a vehicle to make songs.
6) Can you give a few tips to aspiring players?
Never sell out. Try to be as unique as you can. Ohhh yes - never give up, because the day you do might be the day before your life could change. For instance, in 1988 I got a phone call to audition for Rod Stewart and eight days later I was playing a football stadium and flying in a private jet!
7) What are your future plans?
To surf, surf, surf, and to tour. Perhaps score a film again. I don't think that much about it, I just try to do good work and hope for good luck. I don't care how bad-ass you are, we all need good luck!!!
8) Thanx for talking to us, Stevie!
Cheers, David!