- David "Skinny Devil" McLean
Originally published at Tinfoil Music
Date:
Tuesday, December 03 2002 @ 06:55:18 GMT
They say everything from Texas is big. Real big. If the talent of bassist Kyle Honea (of Dallas, Texas, USA) is any indication, there is truth to that saying.
Kyle began playing in 1988 and sweated it out in bands gigging in small clubs around Texas. He soon was influenced by bass extremists Billy Sheehan, Geddy Lee, and Doug Keyser, as well as guitar rippers like Jason Becker and Marty Friedman, and started practicing 8-10 hours a day. That practice paid off when Mike Varney (Shrapnel Records) featured Kyle in his "Spotlight" column in Guitar Player Magazine.
After a vacation from the music scene, Kyle leaped back into the grinder with a short demo (2001), two solo CDs (both released 2002), regular columns for both
"Insane Guitar"
and
"Chops from Hell"
, and an instructional CD-ROM (care of CFH). His latest solo effort, "Seasoning', is available from Kyle's web-site for free! You can also visit his
SITE
to hear clips of his incredible playing, so be sure to check it out.
Kyle sat down a while back and answered a few questions....
========
1) What are your current projects?
My current projects basically involve writing and recording my instrumentals as well as trying to develop more new techniques for the bass, plus writing two monthly columns - one for
"Insane Guitar"
and one for
"Electric Bass"
. Occasionally, I write with a drummer. My brother in law Robin Qubty is a great drummer and a very busy person but on a few weekends we have written parts of songs that we may assemble here shortly.
2) How does this differ from your past work?
My new music will remain acrobatic, but I will try to inject a little more feel and taste into my tunes. My next CD release will be free of charge!
3) Do you have one project that you re most proud of as a bassist?
My favorite project would have to be the track "Mercury Bath" on the Shrapnel Records album, "Ominous Guitarists from the Unknown". It was an integrous effort that really gave me that feeling of accomplishment. Getting the entire rhythm track right on the second take was amazing. I think capturing the rhythm guitar, bass, and drums together on a live take and getting it right has to mean something to me. That was my first appearance on any album and I was a very happy 19 year old! Plus being on Shrapnel Records meant a lot - a lot of my musical heroes are there.
4) Can you give our readers a run-down of your basic gear?
I currently only have a home recording set-up, which consists of only two pedals. The first is a BOSS compression-sustainer pedal and the second is a BOSS bass chorus pedal. I am recording everything analog and transferring to cd when finished. It's really a quick and easy setup which makes recording and writing easier for me. My bass is an old '88 Kramer bass with Spector pickups and I modified it by scalloping 8 of the frets (12 through 19). I also use a BOSS Dr. Rhythm 550 drum machine.
5) Who would you cite as early influences, and who are you favorite new players?
My early influences include Billy Sheehan, John Onder, Wally Voss, Doug Keyser (Watchtower), and the band RUSH. Neil Peart's lyrics and ideas have always been inspirational to me. I should thank my good friends Tony Ruiz and Robin Qubty for introducing me to Rush - it really helped me out. I must also include the bands Racer-X and Cacophony. My favorite new players? A Japanese bassist named Tetsuo Sakurai. He recorded an amazing solo album with Dennis Chambers and Greg Howe. Awesome! Also, well he's not new, but I love Pat Metheny's music. His first solo album is incredible: "Bright Size Life". I love "Midwestern Nights Dream", and Jaco's playing is great also.
6) Can you give a few tips to aspiring players?
The only tip I could give would be to try and find some quiet time alone with your instrument and really try and separate yourself from the world for a while and write something personal. Once you develop that idea try and record it. Try and leave a mark somewhere!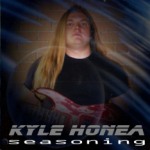 7) What are your future plans?
My future plans include possibly doing clinics overseas and trying to record and self release my own album. I really don't know what the future holds but I'm always looking for that golden opportunity.
8) Thanx for talking to us, Kyle!
Thanks for talking to me as well!! I hope to gain someone's interest out there...or at least turn a few ears.